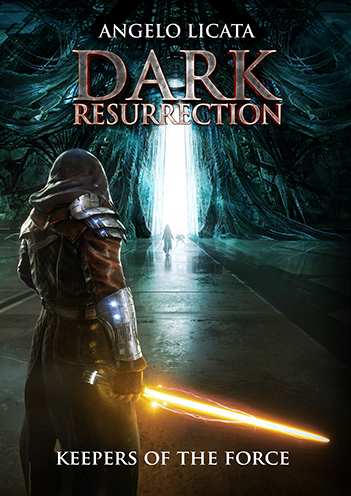 On December 9th, the short film, Dark Resurrection - Keepers Of The Force, will see the light and, along with it, the novel in e-book format will be distributed free worldwide in both an Italian and an English version.
The Riviera Film Cultural Association has been the backbone of the Dark Resurrection project since it began in 2007.

The association made it possible to manage the budget that was reached through donations from 560 fans from all over the world, making sure that that money was spent entirely for creating the last chapter of the Saga. The association also helped in making the work really popular, especially thanks to Fabrizio Fenner, who managed all contacts with our fans and the associated producers.
We used the Streetlib portal to publicize the e-book, setting the price at zero, in order to maintain the non-profit spirit that has always guided our project.
Unfortunately, several distribution portals (including the most important: Amazon) have changed their policies and will not allow an e-book to be distributed for free. They now automatically set a base price of 99 cents, so we were forced to price the book.
| | |
| --- | --- |
| To get around this problem, without precluding the possibility for readers to use the e-book format they like most, and to make sure it would continue to be a non-profit endeavor, Angelo Licata, as well as Leila Myftija and Mark Gore, surrendered their copyrights to Riviera Film for free. As President of the cultural association, Angelo Giampietro undertakes to donate all proceeds to charity, up to the last penny! | |
Why a novel? Why a short film?
We aspired to create an entire film, but it was not possible with the funds we received, which were about 27,000 Euros.
At one point, there were two directions we could have taken: stopping the project, or finding a way to somehow narrate the last chapter of the Saga, which began in 2007.
Since Angelo Licata is also a good writer, after reading his novel, Engel (published by Mondadori in 2016), Angelo Giampietro suggested that writing the last chapter could have been a dignified, maybe even a more artistic, way of ending the Saga.
Angelo Licata wrote the novel in about a year. With the budget collected, an almost 7-minute-long film was created (10 with the end credits). A work halfway between a short film and a trailer, which presents the world and characters he had imagined, and the atmosphere and emotions that you'll experience in the final story.